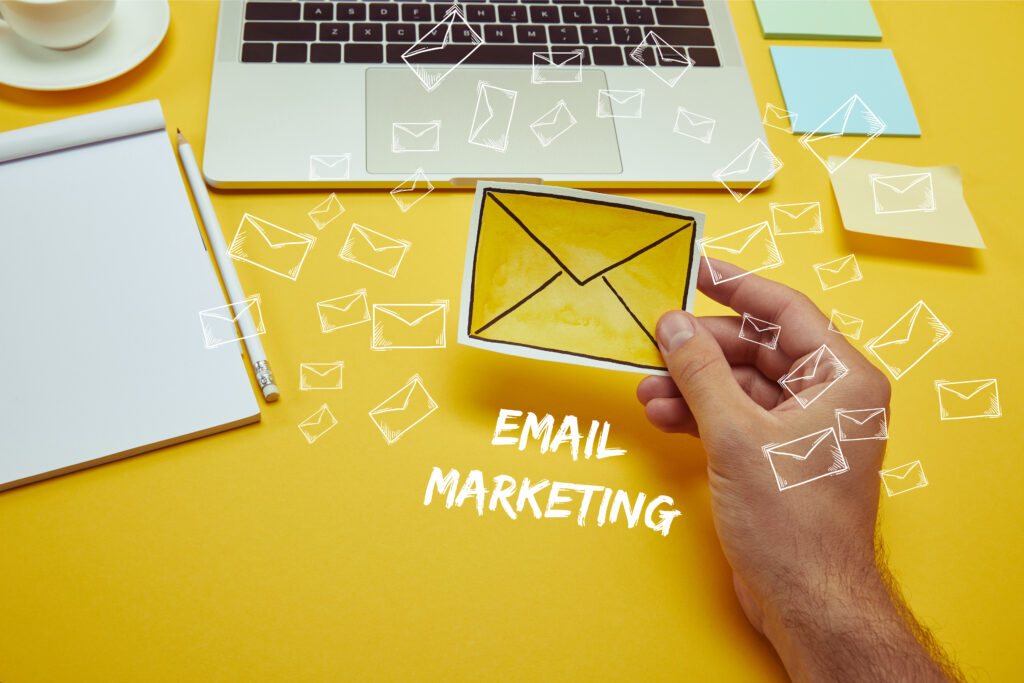 #USAMfgHour Twitter Chat Recap for April 16, 2020
Email is solid outreach to existing customers and brand awareness for future customers. It's a great tool for communicating. – @torres_inklings
This week, Bernie Fussenegger (@B2the7) guest hosted the #USAMfgHour Twitter chat and shared valuable tips about email marketing for manufacturers.
After introductions, Bernie asked what the benefits are of an email marketing program. @DCSCInc mentioned they use email marketing to promote product releases, informative webinars, and blogs with helpful tips. Others mentioned it is a great way to keep in touch with existing customers, help prospective customers get to know you, and keep a prospect engaged over long sales cycles. Bernie loved those answers and elaborated by stating that email marketing is an important digital component for brand awareness and brand loyalty and is still one of the most effective channels when it comes to ROI. It is great for building relationships with your prospects, leads, current customers and past customers who have raised their hand, given you data, and said they wanted to hear from you. Email marketing allows you to be more personalized, targeted, and segmented which allows you to send more relevant communications based on the data you have on your customers. Emails subscribers are generally going to be your more loyal customers – you have data on these customers which enable more relevant and personalized content.
Next, Bernie asked, "How does a manufacturer begin an email marketing program and how often should the company send emails?" Participants were varied on their answers, but all agreed that it should be frequently enough to stay relevant but not so frequently that your emails get deleted without being read. @GraphicProducts suggested that frequency depends on the goals of your campaign. Bernie agreed and further stated, you should do the following before starting an email program:
Determine what your goals and objectives are
Target audience
The content
What to measure (what does success mean?)
What are you doing with the data
How does email compliment other programs
Then, you should select a partner that meets your needs but also allows for cross channel marketing and the ability to expand and that companies should A/B test frequency for optimal results. [Some potential partners include MailChimp, Constant Contact, ConvertKit, AWeber, GetResponse, Drip, SendinBlue, as well as larger eCRM programs like SalesForce Marketing Cloud, YesMail, Cheeta Mail and Emarsys.]
In each campaign, you should have the following:
From Name
Clear subject lines
Relevant Pre-header
Personalize & relvant content
Clear call to action
Measurable KPIs
Test, Test and test some more (A/B testing)
At our chat halfway point, Bernie asked participants what three things they should be cautious of when sending emails. @NestbitMarketing said, "Send times are an important consideration, especially in the industrial sector. Employees in manufacturing may only check their email once or twice a day. Much past that, things get buried quickly." Others cautioned to double-check spelling and grammar prior to sending out emails, be wary of too much sales and not enough helpful information, broken links, and data privacy compliance. @litmusapp helps with testing and provides an internal distribution list for a preview of all emails before they go out. Bernie said to be aware of the following when sending email:
Not a good welcome series
Too high frequency
One message for all – no segmentation
Don't purchase lists/Don't spam
No call to action
All selling and no relationship building
Not being relevant
What three things should you do when it comes to email marketing to maximize your ROI? Bernie suggested that participants should 1) Have a clear call to action; 2) Relevant/Personalized Content; and, 3) Segment & Target your audiences. @NJMEP added, "Understanding the audience will be essential. Creating multiple segmented lists; new leads, active customers, etc. will help the marketer craft messages that speak to a specific group. It will allow these individuals to create more impact messaging." Overall, defining goals and KPIs, analyzing the data and segmenting audiences, and testing and optimizing are key to getting a high ROI.
The next question asked how participants can take an email marketing initiative to the next level. Answers varied from "Just start!" to "Segmentation. Automation. And Triggers". @andrewtstewart, a marketer who joined in the chat today, suggested working smarter not harder by asking yourself a few questions:
– Am I leveraging all my tools?
– Do I know who my audience is?
– Why do/don't they engage?
– What have I learned?
– Can I test something new?
Bernie's next level ideas include: "Triggered and automated – Welcome series, Bday/anny, drip campaigns based on specific dates/actions, new, active, lapsing and lapsed campaigns – use data to be relevant and personalized." Additionally, think targeting and segmentation. This is where brands can be very relevant and personalized with their content. You have the data and the ability to deliver content based on their actions or data points. Use segmentation of your email database and targeting these same customers in social and search marketing programs creating cross-channel campaigns hitting the customers where they are. All you need is the email address for this.
Last, Bernie suggested focusing on metrics such as the ones below to measure the success of campaigns:
Open Rates
Click-through rates
Click to open rates
Conversion rates
Bounce rates
Unsub rates
Engagement rate
List growth
Campaign specific metrics – sales goals, actions, shares.
For more helpful email marketing tips, visit Bernie's website. Also, be sure to follow him on Twitter @B2the7 to stay updated on what he is doing.
Next week, Damon Pistulka (@dpistulka) will be hosting the chat and sharing about how manufacturers can adopt speed in their businesses.
The #USAMfgHour chat is founded by @DCSCInc @BIllGarlandSpkr @witzshared and @SERVICECASTER. Be sure to follow the official account for chat highlights, recaps, and information at @USAMfgHourChat and visit us on other platforms to keep in touch between chats.